NUCLI Analytics
AWR & ASH Data Cloud. Application Analysis and Continuity Support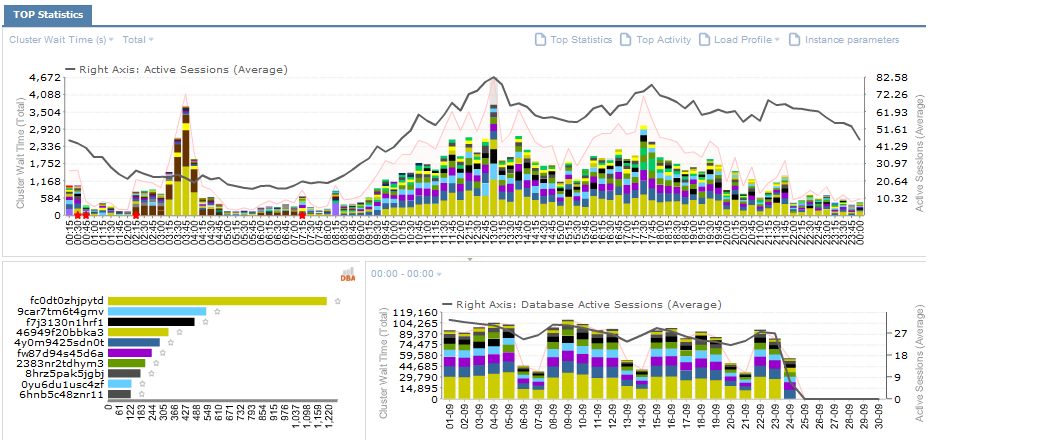 NUCLI Analytics was born from the accumulated experience of NUCLI. Our clients are demanding a continuous type of service based on analyzing the behavior of their business critical operations in a systematical way. As a result of this need comes a new more efficient way of working based on information from the Oracle database management system performance repository and in the application activity continuous analysis. With the Oracle database management system performance data cloud platform, Database experts will stay aware (like DBAs) to manage your applications run in an optimal way and get the best use of the Oracle database platform.
NUCLI Analytics also runs as a storage service for the information about the Oracle database manager performance available to the customers. The exploitation of the information about performance is realized by a sophisticated analysis tool where labeling is possible and, by giving semantics to the data as well as interacting with Database experts. Besides, by storing performance information over time, Nucli Analytics becomes a tool to: stress test analysis, service loss or performance analysis problems, comparing behaviors over time, providing performance data semantics to use as business indicators as a tool to ensure quality standards marked code, among other applications.
NUCLI Analytics is a service not just a product. NUCLI makes the infrastructure and hardware available to our customers through a service to analyze and study the behavior of his applications like never before. Nucli Analytics solves the shortcomings of behavioral analysis of applications that have many tools and products that are currently on the market. It is based on the TOP10 philosophy and allows analyzing the behavior of the applications from any dimension in time.
The most important features are:
1
AWR & ASH Cloud Platform
Consider Storing Your Performance History Information
Take advantage of our cloud-based platform without cost of ownership and the continuing evolution of the platform. Consider the NUCLI Analytics Cloud as your platform for unlimited data storage of AWR (Automatic Workload Repository) and ASH (Active Session History) without any infrastructure provisioning and with zero impact over your production systems (storage and performance).
2
Business Intelligence
Consider Analyzing and Studying Historical Performance Information
NUCLI Analytics is a tool based on a TOP philosophy. It's easy to use and let you make application analysis in real time. The analysis of the information about AWR and ASH is made from the Activity optics and the Statistic optics. We analyse, compare and document your historical information as if it was a current data. If necessary, you can consult your doubts to Nucli specialists who work with your same performance data vision.
3
Consulting & Support
Your Performance Information Shared Between your customers and your Experts around the world
Take advantage of the accuracy of the consulting & support, having your AWR and ASH information shared with your experts around the world. Nucli Analytics has a consulting module where you can open cases and issues about your system, application behavior and configuration problems, among many others, and even to ask for advice on strategy and architecture considerations, to Oracle Database experts that have the knowledge of your AWR and ASH information.
4
Business Layer
Turn Performance Data into Useful Information about Business
NUCLI Analytics allows the translation and/or grouping of Database indicators to become business indicators for monitoring and analysis. NUCLI Analytics performs logical groupings of items. Grouped under a label different statements, modules, actions, services, events... making possible to study and analyze a business process.